HIGH-AVAILABILITY MILITARY ROUTER-SWITCH
POWERFUL, OPEN AND FLEXIBLE COTS L2/L3 MANAGED SWITCH WITH UP TO 4x 10GB ETHERNET AND EDGE-COMPUTING CAPABILITIES
The NVS-MIL2004HSR is a COTS general purpose 29 copper/fiber port managed Gigabit Ethernet L2/L3 Router Switch that is packaged in a reliable, lightweight and compact MIL-STD-810G certified enclosure, with capability for up to four 10Gb Ethernet ports. A military compliant dual redundant power supply is fitted in full equipped versions to cover all applications and accept American & European standard AC/DC voltages for immediate worldwide operation. Latest generation conduction-cooled electronics have been custom designed to fit enclosure mechanics and withstand harsh environments. The Router-Switch is fitted with a complete set of active auxiliary electronics and supervisory systems that are indispensable for next generation programs and provide increased payload safety, greater system control and easy integration.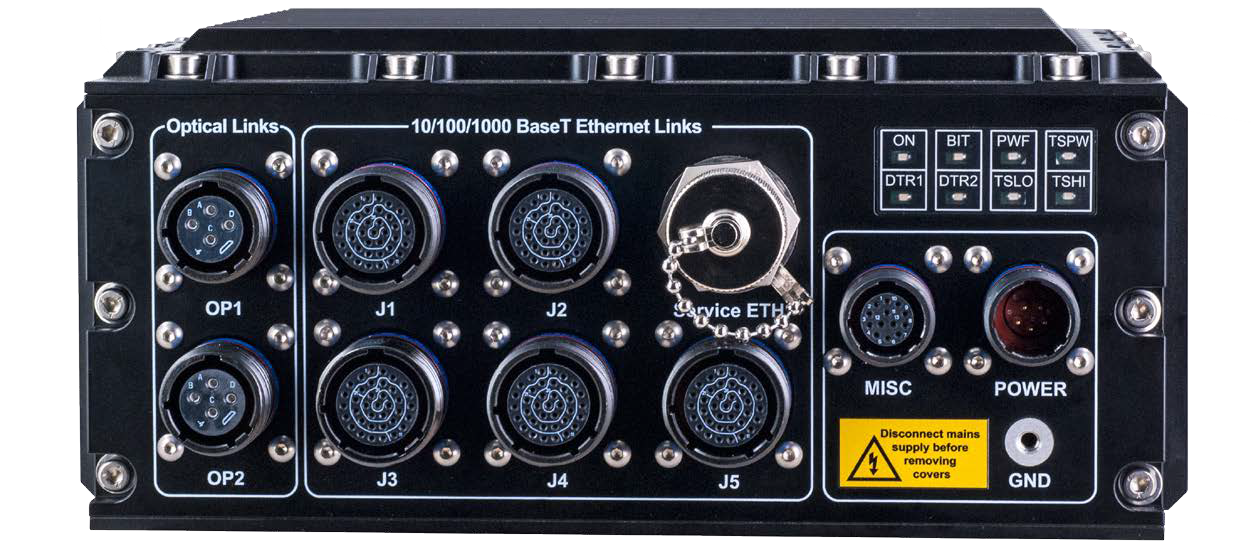 - Managed 24 port GbE L2/L3 Switch
- 4 port fiber optic links
- General purpose service Ethernet port
- Latest generation ARM Cortex hardware
- High-availability Seamless Redundancy (HSR)
- Parallel Redundancy Protocol (PRP)
- Precision Time Protocol (PTP)
- Multilayer management, security & monitoring
- Auxiliary RS232 console port
- Edge computing capabilities for user defined applications
- General purpose, PPS and IRIGb Input and Output available on auxiliary connector
- Dual redundant MIL-STD-704 AC/DC power supply
- System operation front panel LED indicators
- Optimized heat dissipation chassis design
- Remote reset, battleshort & standby system control
- Dual oversized in-line EMI/EMC power Input filters
- Tested and certified by independent official laboratories per MIL-STD-810G & MIL-STD-461G
- Sealed military enclosure cold plate cooled
EG devices feature a quad-core ARM® Cortex-A53 platform running up to 1.5GHz. Combined with dualcore Cortex-R5 real-time processors, a Mali-400 MP2 graphics processing unit, and 16nm FinFET+ programmable logic, EG devices have the specialized processing elements needed to excel in next generation Aerospace and Defense applications.
29
Ports
4 fiber optic ports + 24 copper ports + 1 service port
32
Gb DDR4
64-bit attached to processor subsystem
50
Watts
Enclosure with self disspation capacity
400000
Hours MTBF
Mean time between failures
Different defense programs where NVS-MIL2004HSR military Router-Switch is the key factor for critical in-vehicle communications. If you are interested on getting real application cases, submit the contact form or email us to info@novatronicsistemas.com, we will get in touch with you.
VETRONICS
Vehicle electronic architecture for tracked and wheeled platorms
NAVAL ELECTRONICS
Naval electronic architecture for navy operations above and underwater
AVIONICS
Airborne electronic architecture for flight solutions